Kilpatrick, Townsend & Stockton LLP and our affiliated businesses (collectively, "Kilpatrick Townsend", "we" or "us") are committed to being responsible custodians of the information you provide us and the information we collect in the course of operating our business.
This Privacy Policy describes how Kilpatrick Townsend, may collect, use, and share information from its websites and any mobile applications, emails, blogs, alerts, newsletters, social media sites, or programs, through services we provide to our clients, or through any other online or offline interactions that you may have with us (collectively, our "Services").
The Types of Information We Collect
Personal Information
We collect your personal information when you provide it to us. "Personal information" identifies, relates to, or describes a particular natural person ("you") such as your name, job title, or location data. Personal information also includes information that we can reasonably link to you.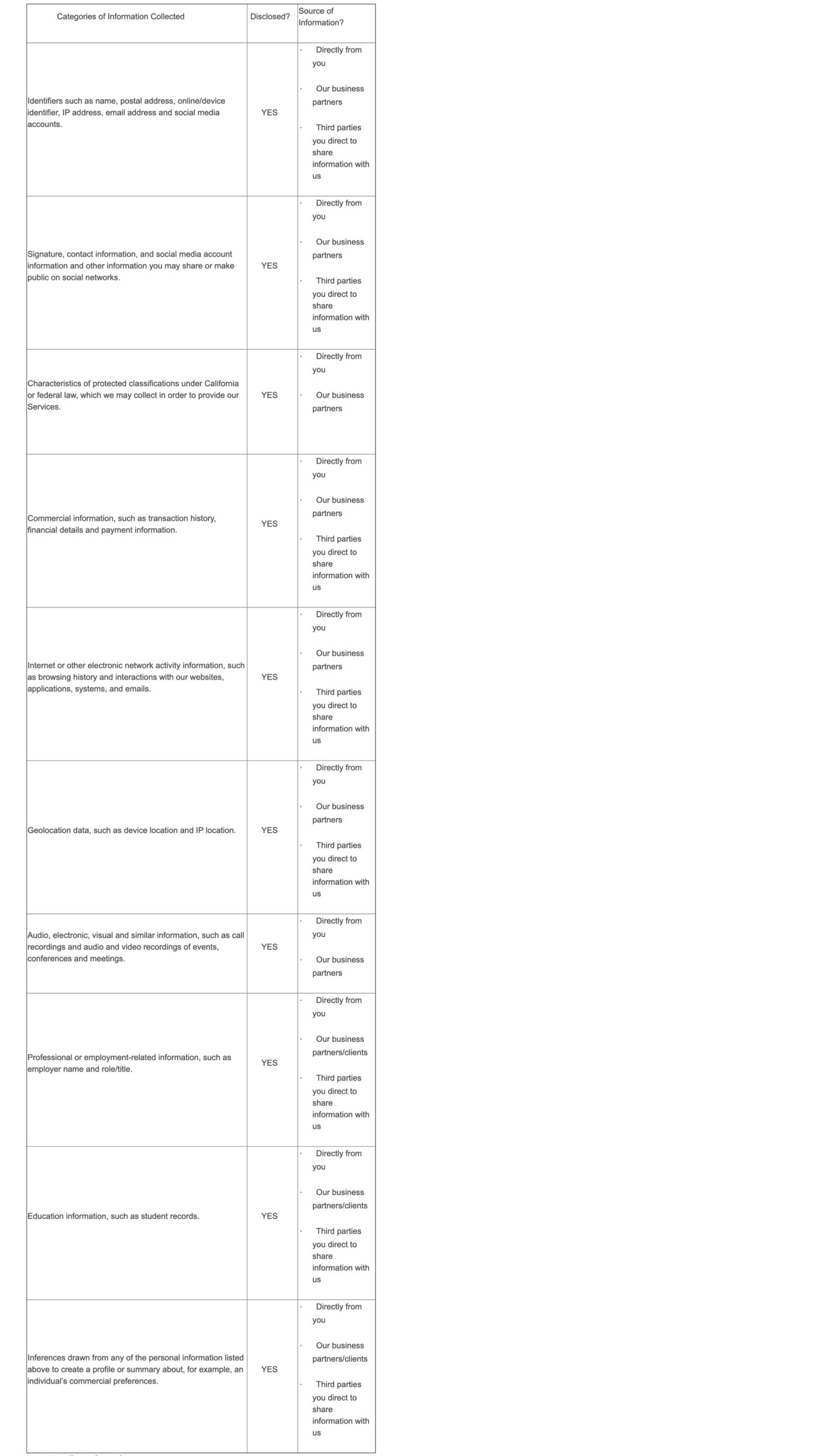 How We Collect Information
Information You Provide To Us:
Information you voluntarily agree to provide when using our Services. Such collection may occur when you communicate with us via email or other channels; when you sign up for or request that we send you newsletters, alerts, or other materials; when you submit an application for a position with us; when you sign up for a webinar or event; and when you respond to our communications or requests for information.
The information you provide may include your name, contact information, title, and information about the organization with which you are affiliated. Some of our Services may require that you enter a password or other information in order to access certain features and we collect such credentials when you enter them. In some cases, we will need to collect information in order to offer our Services.
Information We May Collect Automatically:
Browser cookies and similar technologies (collectively, "Cookies") collect, store and provide us certain information when you use, access, or interact with our Services. We may, for example, collect information about the type of device you use to access the Services, the operating system and version, your IP address, your general geographic location as indicated by your IP address, your browser type, the content you view and features you access on the Services, the web pages you view immediately before and after you access the Services, whether and how you interact with content available on the Services, and the search terms you enter on the Services.
Information We Collect From Other Sources:
We may receive information about you from other sources, including third parties that help us: update, expand, and analyze our records; identify new customers; or prevent or detect fraud. We may also receive information about you from social media platforms including but not limited to when you interact with us on those platforms or access our social media content. The information we may receive is governed by the privacy settings, policies, and/or procedures of the applicable social media platform, and we encourage you to review them. In some cases, we may collect information from third parties as directed by you.
Precise Location Information:
When you access the Services via a mobile device, we may collect precise location information if you permit the Services to access such information. We might use this information to provide you with content based on your location and your proximity to our offices.
How We Use Cookies
We Use the Following Types of Cookies:
Persistent Cookies. We use persistent Cookies to improve your experience of using the site. This includes recording your "Accept Cookies" consent which first appears when you use the site.
Session Cookies. Session Cookies are temporary and deleted from your machine when your web browser closes. We use session Cookies to help us track internet usage as described above.
Third Party Cookies. Third party cookies from ShareThis, AddToAny, Bitly, YouTube and Google may be in use on the site, depending on whether videos are currently embedded in content, etc.
You may refuse to accept browser Cookies by activating the appropriate setting on your browser. However, if you select this setting you may be unable to access certain parts of the site. Unless you have adjusted your browser setting so that it will refuse Cookies, our system will issue Cookies when you direct your browser to our site.
For information on how to manage cookie settings click on the links below:
C. Cookie Settings In Internet Explorer
The data collected by the site and/or through cookies that may be placed on your computer will not be kept for longer than is necessary to fulfil the purposes mentioned above.
We may give you the option to share content from the Services on social networks or other communications channels. To support this, we link to Bitly, AddToAny and ShareThis, companies that provide content sharing services. Bitly, AddToAny and ShareThis may set cookies or other tracking technologies on your computer or device. Please see the Bitly privacy policy, AddToAny privacy policy or ShareThis privacy policy for more information.
In some cases we may embed or link to content hosted by YouTube. YouTube may set cookies or other tracking technologies on your computer or device. Please see the YouTube privacy policy for more details.
Analytics on Our Services:
Our websites may use Google Analytics, a web analysis service provided by Google, in order to better understand your use of our websites and how we can improve them. Google Analytics collects information such as how often users visit a website, what pages you visit when you do so, and what other websites you used prior to coming to such website. Google Analytics collects only the IP address assigned to you on the date you visit a website, rather than your name or other identifying information. Although Google Analytics plants a permanent cookie on your web browser to identify you as a unique user the next time you visit a website, the cookie cannot be used by anyone but Google. Google's ability to use and share information collected by Google Analytics about your visits to our websites is restricted by the Google Analytics Terms of Use and the Google Privacy Policy. Google utilizes the data collected to track and examine the use of our websites, to prepare reports on its activities and share them with other Google services. To more fully understand how Google may use the data it collects on our websites, please review "How Google uses data when you use our partners' sites or apps," (located here).
Please note: We do not currently respond to web browser "do not track" signals or other mechanisms that may allow you to opt out of the collection of information across networks of websites and online services.
How We May Use the Information
We may use the information we collect for the following purposes:
To respond to your inquiries;
To provide you with legal and other services that you request;
To operate, troubleshoot, and improve the Services;
To send you newsletters, legal updates, event information, marketing communications, and other information that may interest you;
To maintain our list of contacts;
To understand how people use our Services, including by generating and analyzing statistics;
For Kilpatrick Townsend's business purposes, including data analysis; detecting, preventing, and responding to actual or potential fraud, illegal activities, or intellectual property infringement;
To assess the effectiveness of our events, promotional campaigns, and publications;
To evaluate, recruit, and hire personnel; and
As we believe reasonably necessary or appropriate to: comply with our legal obligations; respond to legal process or requests for information issued by government authorities or other third parties; or protect your, our, or others' rights.
How We May Share the Information We Collect:
Kilpatrick Townsend is a global provider of legal and other services. Our offices and business entities share information with each other for business purposes such as internal administration, billing, promoting our events and services, and providing you or your organization with services.
We do not sell, rent, or otherwise share information that reasonably identifies you or your organization with unaffiliated entities for their independent use except as expressly described in this Privacy Policy or with your prior permission.
We may also share information that does not reasonably identify you or your organization as permitted by applicable law.
We May Also Disclose Information We Collect:
To our third-party service providers that perform services on our behalf, such as web-hosting companies, mailing vendors, analytics providers, event hosting services, and information technology providers.
To law enforcement, other government authorities, or third parties (within or outside the jurisdiction in which you reside) as may be permitted or required by the laws of any jurisdiction that may apply to us; as provided for under contract; or as we deem reasonably necessary to provide legal services. In these circumstances, we take reasonable efforts to notify you before we disclose information that may reasonably identify you or your organization, unless prior notice is prohibited by applicable law or is not possible or reasonable in the circumstances.
To service providers, advisors, potential transactional partners, or other third parties in connection with the consideration, negotiation, or completion of a transaction in which we are acquired by or merged with another company or we sell, liquidate, or transfer all or a portion of our assets.
Grounds for Using Your Personal Information:
To the extent required by applicable law, we rely on the following legal grounds to process your personal information, namely:
A. Performance Of A Contract – We May Need To Collect And Use Your Personal Information To Enter Into A Contract You Or To Perform A Contract That You Have With Us. For Example, When You Use Our Services We Will Use Your Personal Information To Respond To Your Requests And Provide You With Such Services.
B. Consent – We May Use Precise Location Information As Described In This Privacy Policy If We Obtain Your Consent Prior To Tracking Such Information. To Withdraw Your Consent To Such Use, You Can Contact Us Via Our Contact Us Page, Or You May Be Able To Disable The Sharing Of Location Information In Your Browser Or Mobile Application Settings. Where Permitted By Applicable Laws, We Will Rely Either On Your Consent Or Legitimate Interests For Direct Marketing. When We Seek To Rely On Consent To Collect Information From Your Device Or Computer, We Will Ask For Such Consent Before Collecting Such Information.
C. Legitimate Interests – We May Use Your Personal Information For Our Legitimate Interests To Improve Our Products And Services And The Content On Our Services. Consistent With Our Legitimate Interests And Any Choices That We Offer Or Consents That May Be Required Under Applicable Laws, We May Use Technical Information As Described In This Privacy Policy And Use Personal Information For Our Marketing Purposes.
Third-Party Services and Content
Our Services may include integrated content or links to content provided by third parties (such as video materials). This Privacy Policy does not address the privacy, security, or other practices of the third parties that provide such content.
We engage third parties that support the operation of our Services, such as analytics providers. These third parties may use technologies to track your online activities over time and across different websites and online platforms.
Protection and Storage of the Information We Collect
Although no information system is totally secure, we deploy administrative, technical, and physical safeguards designed to comply with applicable legal requirements and safeguard the information that we collect. This includes, when required , obtaining written assurances from third parties that may access your data that they will protect the data with safeguards designed to provide a level of protection greater or equal to that adopted by Kilpatrick Townsend.
We are not responsible for the security of information you transmit to us over networks that we do not control, including the internet and wireless networks.
The Services are controlled and operated by Kilpatrick Townsend from the United States. We may store the information we collect in the United States or in other countries where we or our service providers have facilities. We may transfer information to countries outside of your country of residence, including the United States, which may have data protection laws and regulations that differ from those in your country.
We retain the information we collect no longer than as reasonably necessary to fulfill the purposes for which we collect the information and to comply with our legal obligations.
Your Choices and Rights
If you no longer wish to receive marketing communications from us, you can let us know by sending us an email via our Connect With Us page. And the electronic marketing communications we send you may contain opt-out mechanisms that allow you to register your marketing preferences.
Subject to local law, you may have certain rights regarding information that we have collected and that is related to you. We encourage you to contact us to update or correct your information if it changes or if you believe that any information that we have collected about you is inaccurate. Depending on your jurisdiction, you may also be able , to erase your personal information and tell us if you object to our use of your personal information. To help protect your privacy, we take reasonable steps to verify your identity before granting access to your information. In some jurisdictions, you may have a right to complain to your local data protection authority. If you would like to discuss or exercise the rights you may have, send us an email via our Connect With Us page.
How to Contact Us
We welcome your inquiries and comments. If you would like to contact us with questions about our privacy or data protection practices, please send us an email via our Connect With Us page or a letter to Susan Cahoon, Kilpatrick Townsend & Stockton LLP, Suite 2800, 1100 Peachtree Street NE, Atlanta, GA 30309. Please note that email communications will not necessarily be secure; accordingly you should not include any confidential or sensitive information in your email correspondence with us. Furthermore, note that such communications are not intended to establish an attorney-client relationship and our Services are not intended to be a solicitation or to render legal advice. If you wish to contact us regarding legal or other services, please contact one of our offices near you. You can find a list of our offices on our main website (www.kilpatricktownsend.com).
Changes to This Privacy Policy
We may update this Privacy Policy from time to time. The effective date of the current Privacy Policy is noted at the top of this page. We encourage you to periodically review this page. If we make any material changes in the way we collect, use, and/or share the personal information that you have provided, we will notify you by posting notice of the changes in a clear and conspicuous manner on the Kilpatrick Townsend website.
California Residents Only
This portion of our Privacy Policy advises California residents of rights provided in the California Consumer Privacy Act (the "CCPA") and how to exercise those rights. The below rights apply to the portion of our operations for which we operate as a business rather than as a service provider under the CCPA.
If you are a California resident, you may request certain information from or certain action by us, or you may authorize an agent to make such a request on your behalf. We will seek to verify your identity and/or your agent's authority when we receive an individual rights request from you or on your behalf to ensure the security of your personal information.
Please direct any rights requests (as further described below) or additional questions that you may have regarding this Privacy Policy as set forth in the How to Contact Us Section described above.
California residents have the right to request the deletion of personal information, but we may not delete some or all personal information, as required or permitted by applicable law. If you are a California resident, you may also request to receive details about how we collect, use, and share your personal information. You may also request to receive the specific pieces of personal information that we have collected about you.
We do not, and do not intend to, sell personal information of California residents and do not discriminate against you for exercising any CCPA rights, such as the access and deletion rights described above.
Changes to This Privacy Policy
We may update this Privacy Policy from time to time. The effective date of the current Privacy Policy is noted at the top of this page. We encourage you to periodically review this page. If we make any material changes in the way we collect, use, and/or share the personal information that you have provided, we will notify you by posting notice of the changes in a clear and conspicuous manner on the Kilpatrick Townsend website.
Effective Date: January 1, 2020